6 Offbeat Travel Experiences that are super unique (2019)
Howdy folks! 
You know that feeling when you see something and you think, "Damn, I HAVE to do this"? And where do you note these things down? Why, a bucket list, of course! Yes, it might be cheesier than a double-burst cheese pizza with a stuffed cheese crust, but just like the pizza, it is great fun. 
There are so many unique travel experiences in India, and I've jotted them here. If you have a list already, these would make good additions. And if you don't, this is a good starting point. So, are you ready to answer nature's call? (Not the euphemism, but actual nature calling out to you :P )

Walk right into the sea at Chandipur





That's right...not along, but into. During the ebb tide (which is the sweet spot between the high tide and the low tide), you can walk close to 5 kilometers into the Bay of Bengal! Imagine the number of seashells you can collect. Also, sunsets are beautiful here so the romance can be amped up here :P
Meet the grandest, widest tree in the world at Howrah





We may not have The Grand Canyon, but we do have The Great Banyan. Located at the Acharya Jagadish Chandra Bose Botanic Garden in Calcutta, it is supposedly around 1250 years old! Although it looks like a forest, it's all one tree. Sounds similar to those discounts...see 1 tree, get 3300 aerial roots free!
See the unique floating lake in Manipur






The only one of its kind in the world (and probably the universe, because...yay Earth rocks!), the Loktak Lake has a series of floating islands called Phumdis. To make this place even more special, the largest Phumdi constitutes the world's largest floating park, Keibul Lamjao National Park. 
Have an aerial adventure in Jodhpur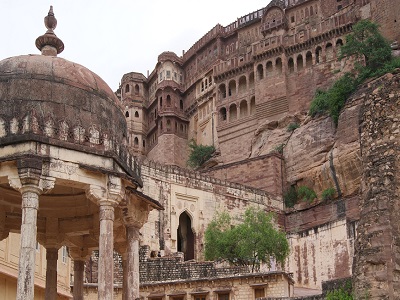 If it looks this pretty when you're on your feet, can you imagine how amazing it would look flying under your feet? Flying over one of the largest forts in India, the Mehrangarh Fort in Jodhpur, is now possible with the Flying Fox. See the Blue City like never before!
Walk over a living root bridge in Meghalaya





You know how they say handmade things are always more precious? These living root bridges are the same. They take up to 15 years to build, and are naturally self-strengthening as the roots grow thicker. It's a part of the UNESCO Heritage too!
Climb down a cliff to a beach with black sand in Varkala





The cliffs are adjacent to the Arabian Sea, and are a geological monument called Varkala Formation! The sand is black because it contains a radioactive substance called Thorium Oxide. The cliffs have party places that are a kilometer long, and a dip in the beach supposedly absolves you of all sins, so it's good cardio :P
What's on your bucket list?
Writer, Gaya.