Making Delhi a Graffiti Art Gallery - St+Art India
They say that art is the last form of magic that exists, and I could not agree more.
Other than being beautiful, it opens up a person like nothing like else can. It's not very often that we find ourselves overwhelmed by it, but once in a while, sometimes when we least expect it, art moves us. This is exactly what happened on my recent tour to the Inland Container Depot in Tughlakhabad. It was a cold Delhi winter afternoon which eventually turned very bright.
A non-profit organization, St+Art India is on a mission to take art out of the conventional gallery spaces to the road, and paint it all bright for people like us to experience. If you've been anywhere around the wall-arts in Hauz Khas Village, Shahpur Jat or Bandra, these are the people behind it.
And why should you know about it?
Because they're back in Delhi with another festival!
Transforming the 10-feet, super-heavy shipping containers kept at 31,200 square feet space of Inland Container Depot in Tughlakhabad, and the walls of the glorious Lodhi colony, the festival this year will have some really fine art by around 25 artists from all around the world. The WIP Show at ICD is a must-see for everyone who wants to capture it in progress. Nothing beats seeing these for yourself but here are some of the most engaging art-pieces this year:
The art above is by Amitabh Kumar from Bangalore. It's made on 6 containers which add up to a height of 30-feet.
Art by Tyler from Mumbai.
Don't miss the details in this one. This piece of art is by Anpu.
Art by Harsh Raman.
Art by Nevercrew.
Free hand calligraphy.
A piece by Nafir from Iran which depicts the state of women.
With humble beginnings, the organization started in December 2013 with Delhi topping its chart. With just one festival they transformed the areas around Shahpur Jat, Hauz Khas Village, Malviya Nagar, Sheikh Sarai, Tihar Jail and the building of Delhi Police Headquarters in ITO with some breathtaking art. Here are some of them: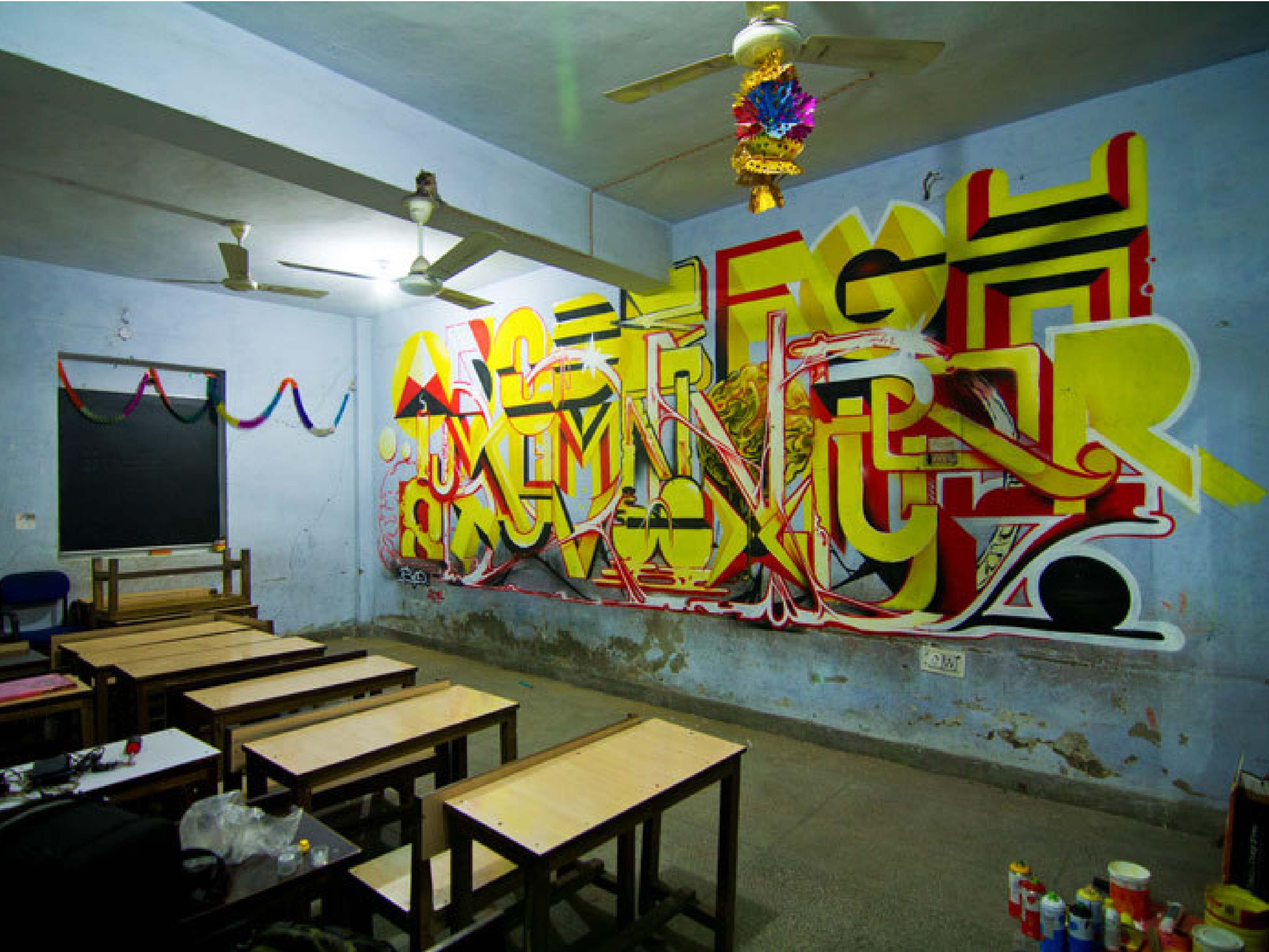 Delhi Police HQ at ITO.
The second edition of the festival started in November 2014, when they painted the walls of Mumbai in Bandra, Dharavi, Borivali, Powai, and Jindal Mansion with magic, and they came alive. Here are some of them:
Every work of art here speaks of freedom, of either things that bother or the colors that soothe. You can catch the WIP show at ICD, Tughlakhabad from 12-6 PM till 28th February. You can also attend a live-band show on 7TH February. 
Writer, Shraddha Verma.